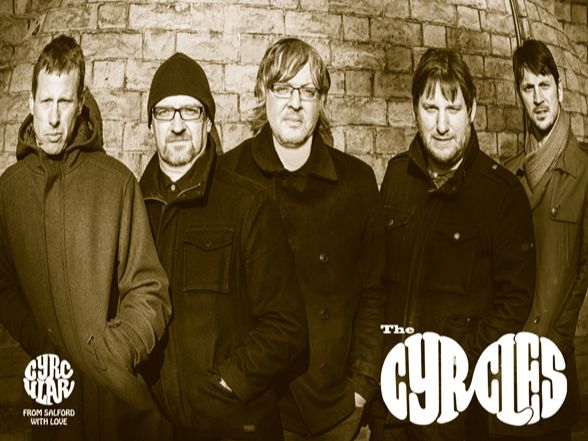 Your Unique GiG TV ID : 194
Classic Pop Finally Comes Full Cyrcle
"Many bands make a great noise but have no memorable songs, or an understanding of craft. So when a group comes along and effortlessly ticks all three boxes, a treat for the ears is ensured. The Cyrcles hail from Salford and unashamedly continue the North West of England's lineage of melodic guitar bands, most notably with echoes of The Hollies. Most pleasingly of all are the close harmony vocals sung in a northern brogue of which fellow Salfordian, Graham Nash would no doubt approve." (Duncan Fletcher, Shindig, April 2020)
Hailing from deepest, most musical Salford, The Cyrcles were formed in 2017 and comprise Jon Breward (Lead Vocals and Lead Guitar), Adam Kelly (Vocals and Acoustic Guitar), Mark Jones (Backing Vocals and Electric Rhythm Guitar), Neil Coulborn (Bass Guitar) and Michael Wolstenholme (Drums).
In spring 2020, they took their classic, trademark psychedelic-tinged close harmony vibe on a trip from Greater Manchester to California and all the way back again, with the release of their well-received first single, the delightfully Byrdsian "It's All Gonna Work Out Fine", described by Shindig's Duncan Fletcher (Issue 102, April 2020) as "the sort of song you'll hear once and like. Hear it twice and you'll be humming it for a month."
Backed by its sitar-infused, Move-inspired counterpart "Open Your Eyes", their debut 45 has also been described by Rock Radio's Roger Nicholls as "Manchester-based classic pop music at its very, very finest", whilst respected music journalist - and fellow Salfordian - Paul Carroll captured the band's Hollies vibe perfectly with the line "jingle-jangle jubilation at its King Midas In Reverse best."
Available on iTunes, Apple Music, Amazon (and yes, even Spotify), the single has since benefited from strong regional, national and international radio coverage, with new listeners and followers from as far afield as the United States and Australia all cottoning on to the Cyrcular sound.
Bolstered by this initial flurry of success, which also included a particularly enthusiastic review in the internationally respected Shindig magazine, The Cyrcles - comprising four Salfordians and one token Mancunian - quickly set about recording a follow-up single, amassing tracks for a debut album and embarking upon a full programme of live dates, beginning at Manchester's Night and Day, taking in Liverpool's famous Cavern Club and including their debut London show, at the Fiddler's Elbow in Camden.
Then came COVID-19, bringing the music business - like virtually every other industry - to a resounding halt. National lockdown! All live shows cancelled! Enforced social distancing... hardly the environment for a 5-piece band to thrive in. Undeterred, the band's lead vocalist and chief songwriter Jon Breward kept The Cyrcles in motion throughout the first wave of the pandemic, working tirelessly on the masters, writing and demoing new material and dusting off one or two classic cover versions from a mixed bag of influences ranging from 60's British beat and mod-psych, to West Coast psychedelia, indie as well as classic and northern soul.
Then came Spring 2021, the lifting of restrictions and the welcome return of live music. After a few local warm-up gigs, The Cyrcles made a triumphant return to the stage in July, at Tatton Park in Cheshire (home turf, of sorts), as a headline act supporting Sophie Ellis-Bextor as part of The Foodies Festival national tour. This was followed by the lads playing to appreciative audiences all over the country as part of The Foodies roadshow including appearances in London, Oxford, Bournemouth, Winchester and Brighton, where The Cyrcles supported local favourites Scouting For Girls.
Heading back north, the lads spent some much-needed time in the studio, re-emerging in late October to support The Lottery Winners and Space at the Macclesfield Festival, before playing a number of local dates in the run-up to Christmas.
2022 is all set to be another big year for The Cyrcles. Their next single - the jangly, West Coast-inspired "Caroline's Leaving" - is set to be released in February, backed by the baroque-pop psychedelia of "My Mind Explodes" which features cellos, violins and the Mellotron to give a knowing nod to the Moody Blues, Arthur Lee and Love and, of course, The Zombies' timeless masterpiece, 'Odessey And Oracle'.
A full programme of live events is also taking place, including a Saturday 9th July headline appearance at Bolton's famous Octagon Theatre, as part of the town's annual 'Right To Roam' Music and Arts Festival. The Cyrcles are also scheduled to appear at Bury's 'Head For The Hills' festival in September, with national summer appearances also soon to be announced.
The Cyrcles... from Salford with Love!
Number of people in your Act / Company: 5
Selected Performer Options
The GiG TV Show broadcast on YouTube
Radio exposure
Festivals
Event/Gig bookings
Performers - Music Genres
Americana
Baroque
Country
Indie
Pop
Rock
Business location has not been defined