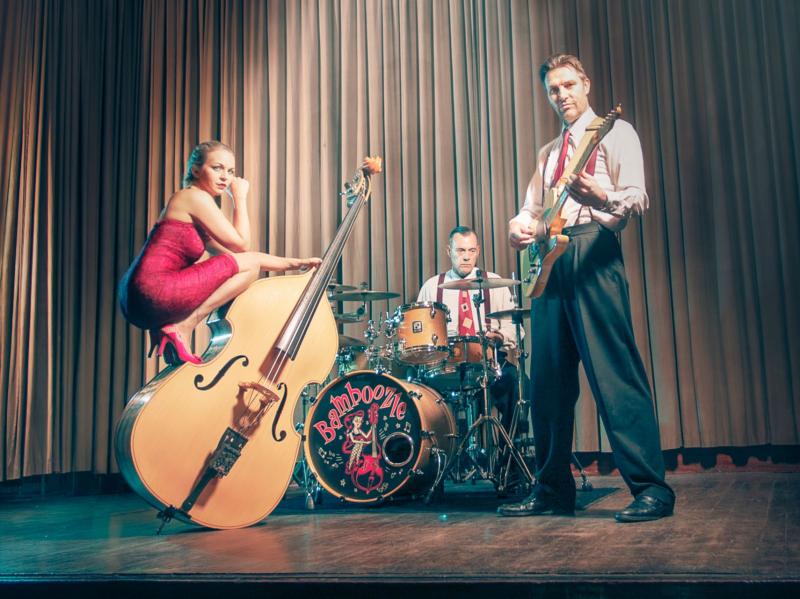 Your Unique GiG TV ID : 146
Birchington, Kent, United Kingdom
Categories:
Contact person
The band combines renowned singer/guitarist/songwriter Jim Knowler (The Keytones, Gotz Alsmann), injecting his exciting and instantly recognisable guitar riffs, with singer/bassist/songwriter Serena Sykes (Jackson Sloane, Wild Bill, Swing Noir), lighting up the stage with her dynamic performances, electric vocal and daring double bass stunts, backed by the slick, thrumming grooves of drummer/vocalist Les Curtis (Imelda May, Darrell Higham, Wanda Jackson).

Their debut EP featured two original songs by Knowler, which quickly became popular tunes in the bands set, and soon after, Sykes also began writing, debuting her song-writing career with the well-received, 'Daddy's Girl', soon followed by Sykes' second release, Heebie Jeebies and their latest single, Knowler's "The Lowdown".

The band headlined at Summer Jambouree (IT), Vintage Nostalgia (UK) and Midsummer Jamboree (FI) in 2018, and Twinwood Festival (UK), Vintage Nostalgia (UK), Chicken Stock Festival (UK), V8 Brothers Festival (BE) and completed a successful tour of Germany in 2019. After a tough 20/21 period, riding the COVID wave, Bamboozle have been invited back to play for Royal Chelsea Hospital biggest yearly event, Founders Day and have a number of festivals/events lined up for their 2022 season, including a European summer tour.

They are currently managed, by band leader Serena Sykes, and released their debut album in 2020. They are often joined by Keith Wilkinson, (Squeeze, The Jar Family), on Guitar/Vocals for live performances, and Wilkinson has recorded on the debut album on a number of tracks, appearing as a featured artist on Knowler's track, "The Lowdown". Bamboozle are known for their exiting, upbeat music and Sykes' double bass stunts during performances.
Number of people in your Act / Company: 4
Selected Performer Options
The GiG TV Show broadcast on YouTube
Radio exposure
Festivals
Event/Gig bookings
Performers - Music Genres
Big Band
Blues
Jazz
Pop
Rock
Swing
Business location has not been defined